More Website Templates @ Tympanomastoiditis. July 30, 2012!
Welcome to the
Teaching
The Master Spiritual Teacher and lineage of the Compassionate Heart of Advaita, the sole American teacher revered internationally as a true master confirmed in spiritual lineage, Robert Adams uniquely relays his own personal experience in the ancient ancient authentic path of Illumination. His original Practices, extemporaneous Discourses, warm hearted gentility and ethereal peace in stunning transmission have peacefully transformed lives for decades for modern seekers of Truth. Welcome to Robert Adams Teaching.
"Our mission on this earth is to be of service to humanity. To alleviate the suffering of others." Enjoy The Teaching link below for an introduction to the Sage.
"An easy way to begin to feel the happiness of God in your life is to sing and chant with all your heart every morning and evening. Read more on Robert Adams teaching
This lifts you above this world. You may sing from any faith, just sing and chant to God with all your heart everyday and this will purify you, bring holiness, happiness."
the Ponderings
New! Spring Ladies Online Meditation and Music Master Class Series Begins April 2.
the Music
Robert Adams always selects live music to accompany his live Dialogues. He includes his favorite live performance as he sings along to the St. Francis Chant below exemplifying his teaching: Non Harm to all.
This music and other live chants are available on The New Reality Three CD Set for personal home use in daily joyful song.
Read more on Robert Adams teaching
Light on the Path
Robert Adams
Robert Adams
The Internationally
Renowned Spiritual Master of Illumined Living Through Love, Compassion and Humility.
link here: A special welcome from Mrs. Adams
Below Robert Adams sings along with The St. Francis song at his public talk. The New Reality Meditation CD below ponders the transmissions in a special ladies meditation.
The gentle Sage of peace, Robert Adams is the only American Master Teacher of a authentic ancient lineage, acknowledged globally for five decades. Robert Adams on the necessity of warm heartedness as a pre-requisite to joy, introducing his personal Institute as his sole dissemination of his Pure Form Original Message.
A modern American family man, his emphasis on peaceful compassion in the traditional classical precepts of Illumination endear him to thousands. He relays his own personal experience as his Teaching. Introducing The Eternal Now, The Gap, The I AM Meditation to the West prior to any previous cultural exposure, his kindliness and emanation of peace attracted audiences.
"You Are Eternal." You are far beyond the temporal experience that is appearing in ever changing events. How to realize and directly experience this deeply beautiful reality? This is the path of illumination. "Do these practices daily, and the happiness will come bubbling up. This world will lose its hold on you." The sequential, multi- layered Teaching is guided by Robert Adams through is Lessons, Practices, and deeply joyful, beautiful guidance on daily life events and choices in accordance with The Power That Knows the Way.
the Love
You are Eternal Assistance to Animals
Victims of Nepal Earthquake
While assisting humans hurt by earthquake, remember that animals have been left helpless....
Literature
New Release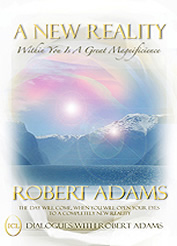 A New Reality
There is a world of love, happiness, peace, compassion, that is eternal, unchanging. What reality are you identifying with? A rich,rare resource of the original practices, meditations,directives.
The Gap
Robert Adams originated his title 'The Gap Teaching' audio and books distributed and much loved throughout India and the U.S. for several decades. The Gap: The Fourth Dimension of Life constitutes one of his most requested topics of experiential application. Dr. Charmane Punjab, a lifetime dedicated student of Robert Adams will be presenting The Gap Teaching of Robert Adams in Georgetown D.C. throughout March with Dr. Warner.
Happiness This Moment
Happiness This Moment
Happiness is your true nature. Happiness is the substratum of your existence. The essential foundation of divine reality of the unchanging nature of the joy within.
Prem Devi Ponders reflections on Robert Adams teaching on happiness. Enjoy an original 40 year students experience, selected by Robert Adams in assistance. Prem Devi shares daily application.
Read personal PDF narrative by Prem Devi here
Robert Adams excerpts from Happiness