the robert adams institute peace sanctuary
The Teaching of Robert Adams
"Our Mission On This Earth Is To Be Of Service To Humanity."
Robert Adams is a Western spiritual master of international reverence, teaching his personal experience upon request in the classic tradition of joyful inner Illumination for over thirty years. Through the path of peace and compassion within the cultural context of ancient ethical precepts, his roots in mystic Christianity provides a supernal insight through direct experience of this truth.
Robert Adams is the sole American confirmed and honored in an ancient lineage as a true illumined sage by the great saint Ramana Maharshi, featured as the teacher in the vintage film, The Razors Edge. Conveying an ancient wisdom for modern times, his uniquely powerful transmissions of a palpable peace, his ethereal nature and warm benevolent kindness endear him to thousands.. More/video
"Within you is Unimaginable Beauty. Discover this today. Dive deeply into the peace that does not change. Do this every morning upon awakening and just before sleep. Here you will find refuge in That Peace Eternal. Here you will find the Unimaginable Beauty. It will last longer and longer until one day, it never leaves you."
"Peace. Peace. Peace."
THE PATHWAY TO ILLUMINATION
"I am not a guru. You have asked me to share my experience. Try it and see if it works for you.
You can experience the fathomless love, peace of God, today. Now. Meanwhile, your job is to become a living embodiment of loving kindness, of The Three Virtues; love, compassion, humility to all. For this is your true Self."
The Pathway to Illumination by Robert Adams taught from his unique personal experience, embraces the following eight fundamental Pathways. As you begin to experience gentle inner illumination, you begin to associate yourself with your original spiritual nature, rather than your physical-human limitations. You begin to naturally practice the pure fundamentals he emanates, "Begin at the beginning", revered by what Robert Adams refers to as fundamental precepts of "all true religions" of the world. The result is a "Direct experience of God", resulting in extended periods of peace, an awakening of loving kindness, compassion, humility and a realization of a sense of brotherhood with all. Living in natural spiritual integrity, one's life is guided by The Power That Knows the Way. "The happiness comes bubbling up." A lasting, authentic new happiness that includes all of life.
"The happiness of this life, with a loved one, a beautiful sunset, a selfless act, is real, yet it is a glimmer of the eternal indescribable joy that never fades."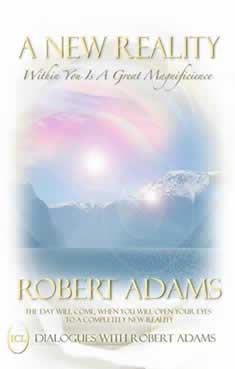 A NEW REALITY
My friend, the time will come when you realize that you have to make a choice. This choice-less choice will come to everyone. At some point in your life, everyone is given the choice. Its arrival is pre-ordained by the Supreme. What you do with this choice is entirely up to you. For it will dictate your destiny. And yet you have to ask yourself, is there really a choice? For I AM That. Forever. Eternally. And this is what I wish to experience consciously. Magnificently. Honestly. This is the shining Supreme Truth upon which all else is superimposed. We must resolve the human predicament, we must actually live in this reality all of the time, beautifully.
A NEW REALITY BOOK
19.90 + Shipping
"Silence of The Heart" is the Classic Life Treatise on the stages of illumination honored by ashrams, churches and temples.
This non-denominational teaching is presented from the personal direct experiences by the globally renowned illumined Spiritual teacher, beloved Robert Adams, founder of The Robert Adams Infinity Institute.
19.90 + Shipping
Silence of the Heart